Shocked is the word to describe
this news
. I first heard it in a tweet from
Simon
that something was going wrong and the BBC headline was that 'Hull City could name Pearson as new manager'. The word could gave me hope because I really didn't see Nigel leaving the club which he lead from League One to the brink of the Premier League in two years. He was never seen without his Leicester City training kit on, he was asked for a wave at every home game, he was home furniture at the Walkers.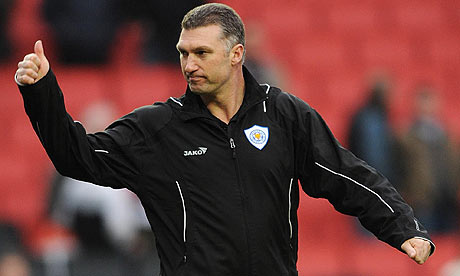 I felt betrayed, angry, despondent. How did it happen? Why would he go from a club on the up, narrowly missing out of promotion last season, with stable funds to a team recently relegated with
millions of pounds worth of debt
? He has also taken his whole backroom team with him, including the finder of all of our young talent recently, Steve Walsh. It seems after a week or so has passed
I feel more sympathetic than anything
. Hull asked to speak, not expecting any response, Milan Mandaric (Leicester City Chairman) said yes, expecting Pearson to say no and Pearson, seeing the lack of fight to keep him assumes he's not wanted and speaks. A case of miscommunication, misunderstanding and presumption.
However, it seems more and more that Milan has almost pushed him out: there was no fight to keep him and a compensation deal was already agreed before Hull had even spoken to NP. The contract negotiations have been going on for a year now so why the sudden collapse and quick deal? I think all Leicester fans can see something has gone on behind the scenes...
Nevertheless, let's look to the future. Names for the new manager include
Swansea's Paulo Sousa
,
Leeds' Simon Grayson
and
Southampton's Alan Pardew
. It seems that Sousa is favourite, I'm really at a loss as to who I want. I just hope that it is sorted quick enough to not lose harmony within the squad and that they get on with propelling the Foxes back where they belong.