This Saturday I joined eight thousand Lincoln football fans to cheer on our local team in their battle for survival from relegation to non-league football from League Two. In this match against Aldershot, they needed to at least match the score of Barnet to survive and a packed Sincil Bank created a surreal atmosphere.
My view as I entered and tried to find a free seat!
When Barnet scored a penalty to go 1-0 up, the news quickly spread through the bumper crowd and we knew that Lincoln needed a win to stay up or for Port Vale to manage a draw or to win against Barnet. However,
as the third Aldershot goal went in
, fans turned from supportive and hopeful to angry and dejected as Barnet held on and the Imps fell into non-league football for the first time in 25 years.
Last time that happened, Lincoln managed to win the Conference and return to league football immediately but this time round it will be a different kettle of fish. The Imps have been fighting relegation for tree or four seasons until now and will need a huge rebuild to get back to winning ways, something that other clubs such as Wrexham, Luton and Grimsby have not managed following relegation from League Two.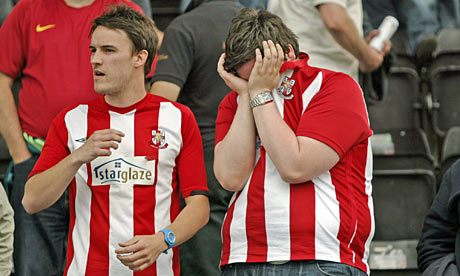 Imps fans dejected. (guardian.co.uk)
After going on a five win run earlier in the year, it seems there is no passion for the club from the players, there is little fight and some high-wage earners that will have to go or cut down on their demands. It will be a struggle and whether the £18 a match price-tag will remain will be interesting. Either way, it's a huge loss for the area and for all associated with the club. Here's hoping a return to the successes of the past is in store for a club I've become fond of as I've lived in Lincoln.