Sony and it's PS3 seems to be finally going places. On Tuesday, they
announced the slimline PS3
(similar to the slimline PS2 they announced 5 or so years ago), which would be available from the beginning of September worldwide at
a new price of £249
(see below for a comparison between the old and new version). What great news! For me, the two things which were holding the PS3 back from the X-Box 360 were a) its ugly size and b) its even uglier price-tag, so now we're sorted, right?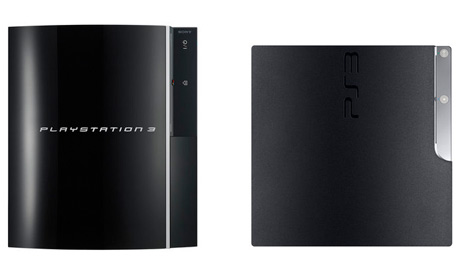 But I'm still not persuaded to part with the well earned cash, the price-tag is still putting me off. You can get the similar X-Box 360 for half the price, still, which has only a very small difference in power, so in essence, you are paying double for the option of Wi-Fi and Blu-Ray. Now, I'm sure all the PS3 lovers will tell me about the extras which I have missed but are they all worth an extra £130? At least they seem to be taking a leaf from Nintendo's book with a
camera-based motion controller in development
in an attempt to make the extra money worthwhile.
This controller seems to use a camera which picks up the sensor in the controller wherever it is on the screen, proceeding to replace it with a tennis racket, fan or sword, whatever tickels your fancy. It looks great,
take a look at the announcement demo
! Again, though, I'm still not totally convinced. Firstly, Sony say they're getting into the 'controller wars' with this but it does look very much like the controller from another, best-selling, console and I'm not sure it does much more. They made a lot of fuss about the 3D coverage and 1-1 realism of the controller, but with the new
Wii Motion Plus addition
for the Nintendo Wii that's pretty much already been done. The PS3 controller would boast having you in the video in the background but that's indeed a bit of a gimmick, to be fair.
Once the PS3 comes down to an affordable price, ie. under £150, and actually has something extra to offer, I don't think I'll be buying one. Fortunately for Sony, sales seem to be picking up,
the PS3 outselling the Wii for the first time in Japan
last month. However, the Wii has also hit the 50, 000, 000 sales mark, making it th fastest selling console of all time, beating the previous holder, the PS2, and Nintendo as a whole are the most popular and biggest selling worldwide, the DSi having the fourth biggest console launch ever (even though it's the third version of the original DS!).
I still think Nintendo for the win but Sony and the PS3 are going in the right direction.