I'm not usually a fan of Premier League but
Survival Sunday
looks to be an exciting day. So gutted I won't be around to see it!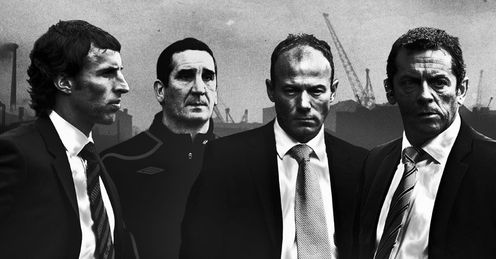 I'm hoping for a Newcastle win and Hull not to win..that'd sort me fine. I like how
this article
doesn't even mention Middlesborough, I think they're out of it to be honest. I think Aston Villa will have a go but they're in such bad form at the moment I dont know if they'll perform, whereas Newcastle need this or it will be a bad day in the North East.
Even though Manchester United will field a reserve side (which they are fine to do, they would normally if they weren't playing a relegation team and they need to be safe for Wednesday's game) Hull won't manage a win and a draw may not be enough. Now I have nothing against Hull; I don't think they belong in this league, but they are here on merit, for sure. However, here is my theory:
If Hull go down, Leicester will play them and I can make the quick journey up from
Lincoln to see

them play for a fun away day!
Ok, so it's slightly selfish but as Leicester City fan, this is the only way I can have a valid opinion in the Premier League!
Predictions (what I'd like):

Aston Villa 1-1 (0-2) Newcastle United
Hull City 1-2 (0-2) Manchester United

Sunderland 0-3 (1-1) Chelsea

West Ham 2-0 (2-0) Middlesborough

Anyway, hope you all enjoy it, I'll look forward to reading about it all when I arrive back after Glastonbudget!
ps. Very upset I miss the play-offs and rugby final also! What a weekend to be away on hey?
Predictions for these (what I'd like):

Leinster 12-24 (0-100) Leicester Tigers
Preston 2-1 (1-2) Sheffield United

Millwall 2-0 (0-2) Scunthorpe United

Gillingham 2-1 (2-1) Shrewsbury Town