Sometimes footballers annoy me. Leave out the silly amount of money they get paid and the stupid play-acting (also called
cheating
) they do; I'm on about their unreliability and disloyalty.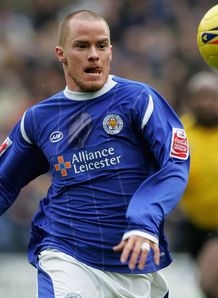 The first one I have a problem with is my player of last season for Leicester City, Iain Hume. Yes, indeed, we had a bad season offensive wise (even if we had the second best defence in the league) and inevitably were relegated. It was horrible for every Foxes supporter and I can only imagine what it was like for the players. When this statement came out from my favourite player of the season, Hume, it seemed that it was very bad but they were all determined to bounce back. In fact, his words on the 9th May 2008 were '
I am a Leicester City player and I'm not looking to move
'. I thought, great, he'll stay with us and we'll bounce straight back up with his help...maybe I'll even get HUME on the back of my shirt?! A month and a half later, he
moves to Barnsley
. I was devastated, lost a lot of respect for the man and felt lied to. It wasn't nice at all.
Fortunately, we bounced back anyway and didn't need Humey's help afterall. Unfortunately, Iain sustained a serious head injury playing for Barnsley and I wish him all the best for recovery...even if Barnsley have become a secret team to hate for stealing Hume from us! Unfortunately again, this kind of thing happens all the time.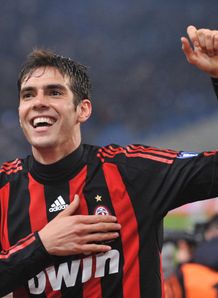 Kaka; the best player in the world? Manchester City seem to think so,
offering an absolutely
ridiculous, and even could be said immoral, £100, 000, 000 to buy the Brazilian from AC Milan
. Thankfully for football, world econmics, morality and human nature (OK I went a little over the top), after Milan agreed, Kaka rejected Man City on personal terms, pledging his alliegiance to AC Milan. Fair enough; he fancies staying in Milan with the team and team-mates he loves, no matter what money the Arabs who own Manchester City would throw at him.
By the end of the day Kaka is now reported to be
starting negotiations with Real Madrid
who have allegedly bid £70, 000, 000 for him this time. I hope for the name of high profile footballers everywhere that he sticks to his decision to stay. Footballers need to realise how much teams mean to their fans and that loyalty is a great virtue in many peoples' opinions.
ps. I'd like to report that in a
previous blog
I predicted right that a dance act would win Britain's Got Talent and that Chelsea would win 2-1, Saha and Lampard both on the scoresheet! I really should go into betting...