We follow the story of Hiccup (
Jay Baruchel
), the son of Viking chief Stoick (Butler) in the village of Berk (said to be ten miles south of Freezing Cold). Berk has a very particular pest problem, that of dragons, and it's the career choice of all from the island to be dragon slayers. This includes Hiccup, however, he is not made of dragon slaying stuff. Nevertheless, he manages to shoot down a dangerous and elusive dragon called a Night Fury but no one believes him. In an attempt to prove his worth, he goes out in search of said dragon which is duly injured. Hiccup manages to befriend it, however, becoming great friends with it, and the relationship grows.
As the village head off in search of the dragons' nest, the kids of the island are thrown into dragon slaying training. All through this, Hiccup uses the tricks he's learnt with his new friend to slay the dragons, not killing them but by sending them to sleep or distracting them. At this, the village is amazed and duly profess Hiccup as the new island hero, sending him to a public showing of his abilities. Meanwhile, Hiccup, whilst on a flight with his friendly dragon, Toothless, is lead to the dragon's nest where he finds the real reason for the dragons ravaging the island: a huge chief dragon. When the villagers, unsuccessful from their nest hunt, find that Hiccup has befriended this dragon, they take it and use it to lead them to the nest, in an effort to destroy it.
We watch as Hiccup tries to show the villagers that they don't need to kill the dragons and as he and Toothless try to save the village from the monstrous chief dragon. It's a wonderful story, full of action, comedy and lovable dragons: they're not horrible ravenous creatures but cute and colourful. Normally I wouldn't like the diluting of dragons but these are just so cute, I really do want a pet one. Serious!
The animation is brilliant and beautiful, as Dreamworks' films so often are (Shrek, Madagascar etc.) and it was a joy to watch. The plotline was also great, for kids and for adult-kids, which kind of takes from the book but is still great. The portrayal of vikings having broad Scottish accents was interesting but seemed to work. It meant that the viewer could be put firmly in the position of a kid of the island, them all having American accents and separating them, and the viewer, from the broad Scotsmen.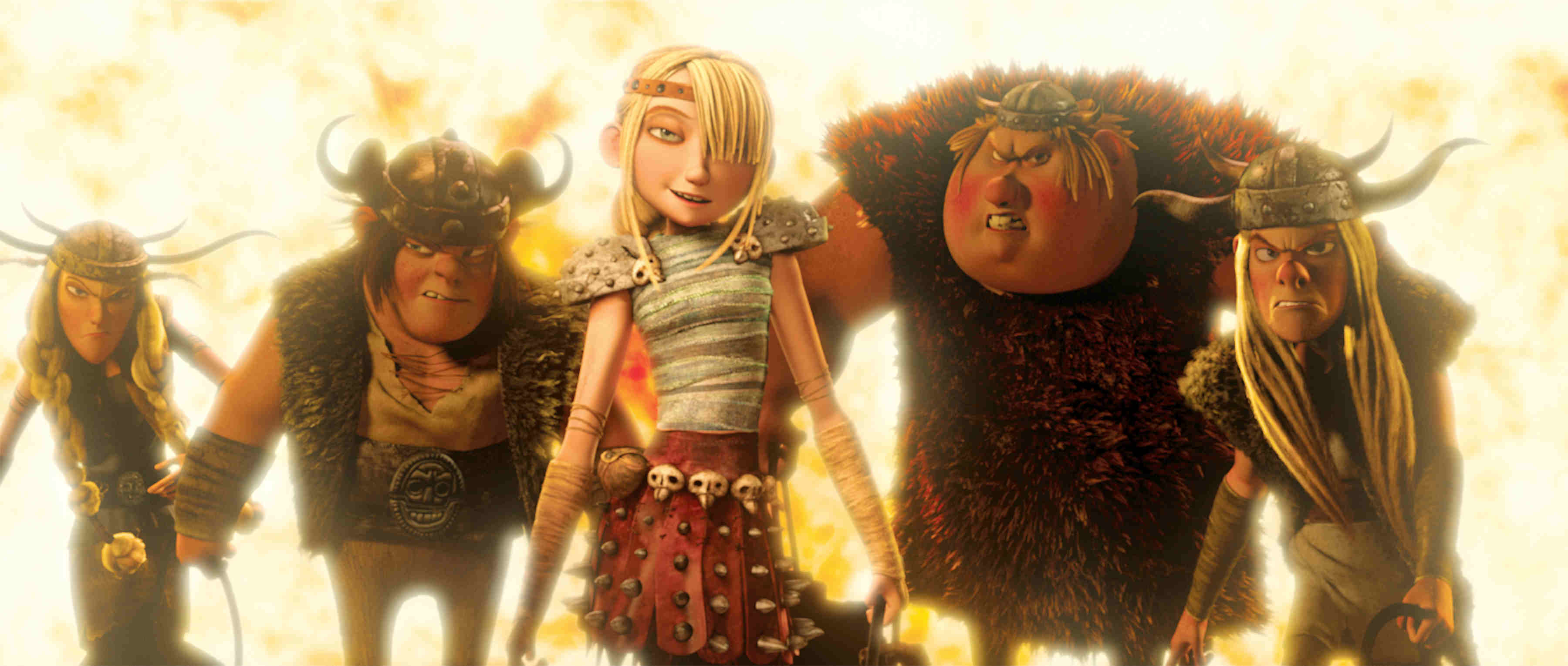 After seeing
Clash of the Titans (2010)
in 3D (which was rushed on post-production), I expressed a concern at whether 3D was really worth it. I was wrong! The 3D in this film was beautifully done, the way it should be done, The 3D focus was pulled well, it was used nicely and even added to the mise-en-scene of the film. Nice.
If you like dragons and mythology, this will be great. If you like cute creatures and whimsical storylines, this is for you. In fact, as Rotten Tomatoes agree (
98% positive reviews!
) if you like film in general, go and see it! Not to be missed...I think it will be hitting my DVD collection when it comes out, definitely!
How to Train Your Dragon = 8/10