Three managers, thirty-nine players, two missed penalty kicks, ups and downs but still one team; Leicester City.
One of Leicester City's best managers of recent years. Nigel Pearson.
The year started with a terrible run of form, gaining just 2 points in January and many calling for the first stable manager in years' head. It thankfully turned round from there leading to what was, I think, the most defining memory of this year, probably the same for most Leicester City fans:
the play-off semi-final in Cardiff
.
After a disappointing home loss, the Foxes went on to win the return leg 3-2 and then, thanks to an obscure Frenchman, lose the following penalty shoot-out. The image of Waghorn face on the floor and the other players consoling each other made you proud to be a Leicester fan and gave hope for the next season to go one better.
The Leicester team join for the penalty shoot-out.
Unfortunately, Nigel Pearson, one of the most popular and statistically successful managers of Leicester's history,
left to Hull
and was replaced by Paulo Sousa, bringing with him 'entertaining football' and a group of unknown, foreign players.
Not a terrible replacement, you would think, but after 9 games he was out, amassing a total of five points, including
a humiliating 1-6 against Portsmouth
who were, at the time, bottom of the table without a full squad.
City players bemused in Portsmouth.
Enter, famous England manager, Sven Goran Eriksson
to galvanise the club and use his tactical know-how and vast list of contacts to take Leicester to the 'promised land'. After a good opening stint, bringing in some quality players on loan and doubling Sousa's haul of points, Sven's magic is slowly halting, bringing fans' confidence down and forcing Foxes fans to loo over their shoulders.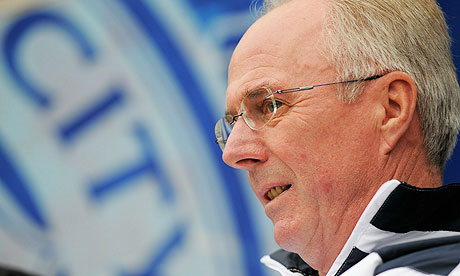 Sven Goran Eriksson: the future off Leicester City?
So we end with a month just as bad as the first one. However, this time we started the month in a much worse position than before but with a month of spending ahead. It's time for Sven to show his ability as a world class manager and turn things around.

I don't think it's too late to call off a promotion push but, unless Leicester stop up the defence and start taking chances, it's going to be a long and hard struggle at the start of 2011.